Events
One of the best parts of being a member of the Davis Monthan Spouses' Club is the chance to get out and have fun with fellow spouses! The DMSC hosts monthly social events for its members and offers opportunities for members to volunteer with partner organizations.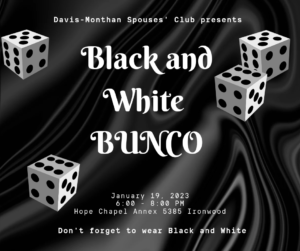 Black and White BUNCO
January 19th 6-8pm
@ Hope Chapel Annex 5385 E. Ironwood St.
We have amazing prizes for BUNCO winners as well as door prizes.